REDENIUS CHIROPRACTIC MASSAGE
Massage is the manipulation of the soft tissues of the body for the purpose of improving, promoting, and maintaining healthy body function. There are many types of massage. They range from light strokes to deep pressure and stretching and are commonly used in combination to meet the needs of each client.


Swedish Massage
Gentle long strokes, kneading, circular movements, vibration, and tapping to help relax and energize.
Deep Tissue
Slower, more forceful strokes to target the deeper layers of muscle and connective tissue, commonly helps with muscle damage from injuries/overuse.
Trigger Point
point-focuses on an area of tight muscle fibers that can form in your muscles after injuries or overuse.
Myofascial Release
Stretching movements used to treat skeletal muscle mobility and increase flexibility.
Sports Massage
Quick long strokes, kneading, and tapping which help prevent/treat injuries and improve athletic mobility.
Pregnancy
Side lying Swedish massage.
An effective treatment, for reducing stress, pain, and muscle tension, massage can be helpful for the following conditions and more:
Anxiety/Depression
Headaches
Alleviating low-back pain
mprove range of motion/flexibility
Ease medication dependency
Assist with shorter, easier labors
Reduces scar tissue and stretch marks
Soft tissue strains/injuries
Fibromyalgia
Spasms and cramping
Hand tingling
Insomnia due to stress
Fatigue
Concentration
Arthritis
Lower blood pressure
Digestive disorders
Temporomandibular joint pain
Stimulates lymph flow
Improves overall blood circulation
May alleviate need for certain surgeries
Carpal tunnel syndrome
Lowers blood sugar levels
Beyond these benefits for specific conditions, people enjoy massage because it often produces feelings of caring, comfort, and connection. Feel free to call and discuss any condition you may have that may/may not be listed to see how massage can benefit you. Please remember that massage is not meant to replace regular medical care. Let your doctor know you want to incorporate massage into your health care routine. As your future therapist, it is important to me to come along side you and your doctor/s to help improve, promote, and maintain your healthy body function.
HOURS

---

Monday
7:30am-12:30pm
2:30pm-5:30pm

---

Tuesday
7:30am-12:30pm
2:30pm-5:30pm

---

Wednesday
7:30am-12:30pm 1:00pm-3:00pm

---

Thursday
7:30am-12:30pm
2:30pm-5:30pm

---

Friday
7:30am-1:00pm

---

Saturday
8am-11am
(Open most Saturdays, please call first)

---
Commercial Insurance
Same co-pay
You'll pay the same that you would pay to visit a clinic, not a penny more. We accept all major insurances and Medicare.
Medicare
$0 per visit
Most Medicare plans with secondary cover you entire cost.
Iowa Medicaid
We accept Iowa Medicaid $0/visit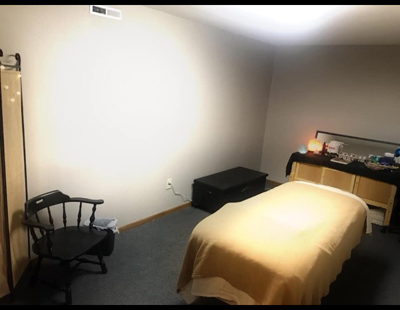 Kaitlin Potter LMT